Repair diary Sinclair C5 - Page 4:
Sunday, 26. April 2009:
The "ant cave"
Replaced TR3 by a BC547 (first NPN transistor I found in my junk box) -> relay working again; electronics now full functional! Yee-ha!
Next building lot: cleaned the chassis and removed the front wheel fork. The steering ball-bearings need a general overhaul too. One is even missing a ball
Wheel fork looks inside like an ant cave. Used the Dremel extension to mill all the dirt out.
Then handled the rusty spots on the wheel fork with sand paper. Originally, thought about just to sand here and there but the more I abrase the more rust I find. In the end I will have to polish the entire fork.
Monday, 27. April 2009:
Rust, rust, rust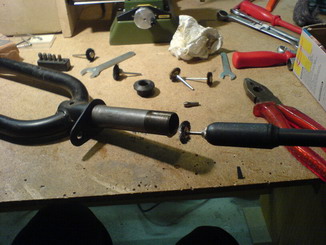 Today I polished the rest of the wheel fork and painted it with zinc spray.
There are still some rusty spots inside the pipe remaining. This will be handled with rust converter.
Sanding is a very dirty drudgery.
Enough for today. I need a shower.
---
---
Repair diary: table of contents